As some of you may already know, our good friend Roberta Kidder of SpinSys is a very accomplished expert on fine wines and Scotch whiskies. At our December 8th mixer, Roberta very graciously provided four outstanding, yet reasonably priced, wines as raffle prizes and offered the audience a unique profile on each wine as tickets were drawn. These were too good not to share, so we're including Roberta's notes here so you can look for these labels too.
Toad Hollow Chardonnay – https://toadhollow.com/ From Healdsburg, CA Family Owned since 1994 by two retired businessmen referred to as the Toad and the Badger Unoaked Chardonnay – Ages in steel tanks for 5 months You will taste lemon custard, Fuji apple and crème brulée Awards from Wine spectator, Wine enthusiast – herald as the perfect balance of quality for price.
Francis Ford Coppola Diamond Claret –  https://www.francisfordcoppolawinery.com/ From Geyserville, CA Famous Director Blended Varietal Bordeaux Style of Wine (similar to Meritage) Strong Aroma of clove, wood char, plum, pepper and Cocoa.
Cigar Box From South America – Argentina—Lujan de Cuyo region Founded in 2011 Grapes are grown in the high altitude beside the Andes Mt range in dry / hot climate Concentrated flavor with a deep red/purple hue Grapes are hand picked Aromatics of tobacco, brown sugar, spice, and cherry – best served with charbroiled meat / game like bison and venison or fatty salmon.
Bocelli – https://www.bocellifamilywines.com/ From Toscana Italy (Central region) 100+ years of wine making Famous Italian Tenor – Andrea Bocelli Critically acclaimed Sangiovese Varietal is indigenous to Italy and grapes will adapt to varied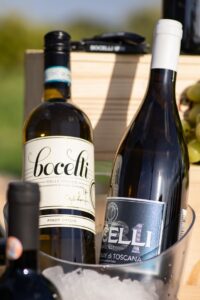 environments High level flavor – Mouthwatering acidity, less tannins Leather, clay, tomato, smoke, tobacco with cherry and strawberry Great with Pizza or fatty foods Helps to decant and allow aeration.
Thanks again Roberta for making December a very special event!